June 2018
| Mon | Tue | Wed | Thu | Fri | Sat | Sun |
| --- | --- | --- | --- | --- | --- | --- |
| | | | | 1 | 2 | 3 |
| 4 | 5 | 6 | 7 | 8 | 9 | 10 |
| 11 | 12 | 13 | 14 | 15 | 16 | 17 |
| 18 | 19 | 20 | 21 | 22 | 23 | 24 |
| 25 | 26 | 27 | 28 | 29 | 30 | |
Calendar


I am not amused [img]
[url=http://www.servimg.com/image_preview.php?i=9&u=18784037]
[/img][[img]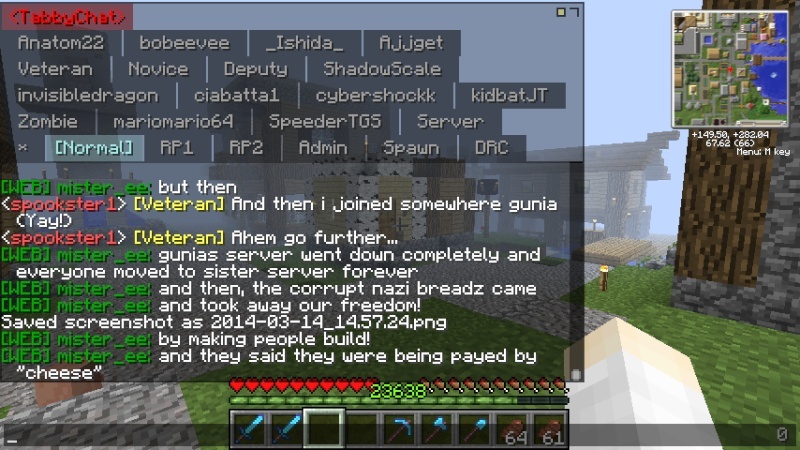 [/img]img]
[/img]e_preview.php?i=1&u=18784037]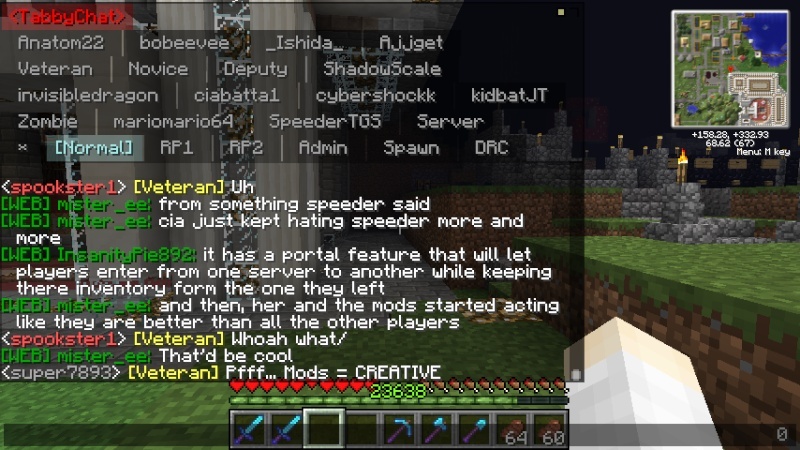 [/url][/img] [img]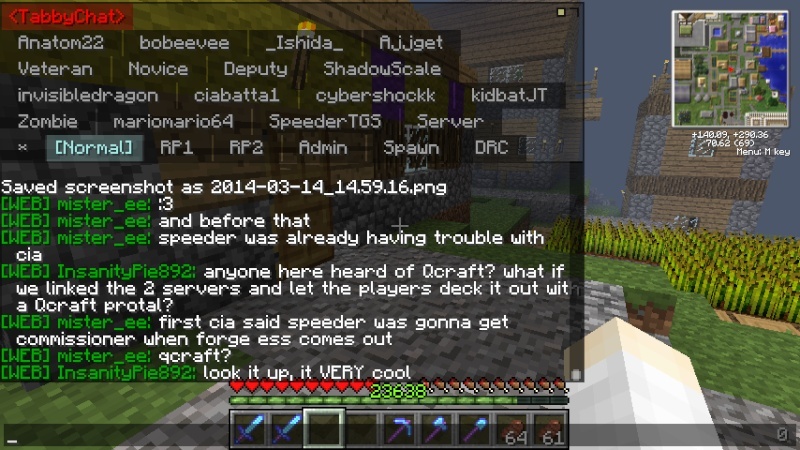 [/img][img]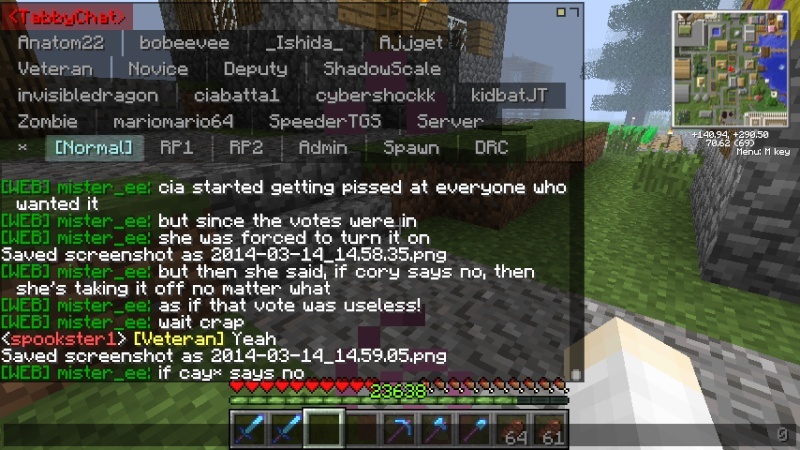 [/img][img]
[/img][img]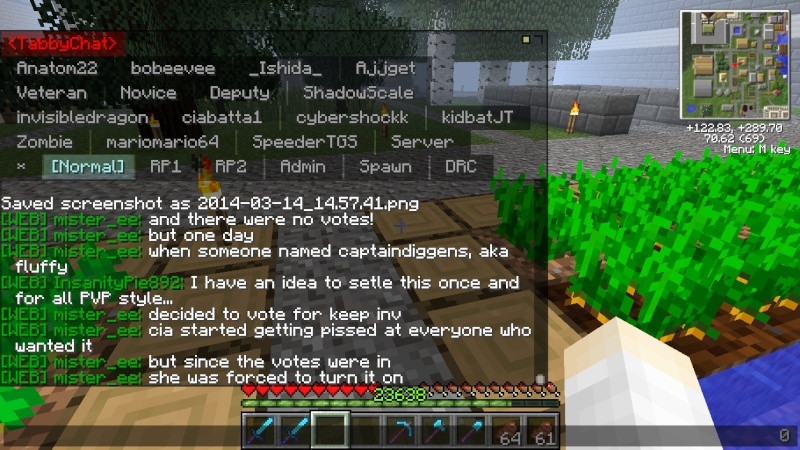 [/img] BTW, i don't care if you can figure out who I am.



Posts

: 1


Join date

: 2014-03-14



Thank you, ive already taken action by banning mister from the server and Dynmap.

This kind of hostile behavior towards the staff and the server itself will not be tolerated on any level =/

The ban is not just for this one incident, prior to this staff members other than the owner have been harassed via steam and Dynmap, and he also has been under the suspicion (along with captaindiggens) of attempting to disrupt the server by expanding the map borders to fill server memory (a boundary is now in place to prevent this from happening).

To clear some things up about what was said, yes, some mods use creative, but most mods (including myself) set out specifically trying not to use it as best we can. As for the vote, yeah Cia didn't want to put keep inv on, but she wasn't getting 'pissed' about it, its a public vote, you have the right to go against it =/. As for whether it will stay on or not, the new features forge essentials has added (like death chests and /back) may mean that it might not be needed later, but that's just ideas, essentials is still buggy atm, so it wont change anytime soon.
_________________
Breaking rule-breakers since 2011

http://xshadowscalex.deviantart.com/



Posts

: 699


Join date

: 2014-01-03


Age

: 24


Location

: Manchester Salford

RP Character Sheet
Name: Blizz Braidy
Personality Trait: Optimistic
Character Description:


Well, I'm disappointed in Mister. I told him (and the rest on my server) that if there's a lot of criticism and annoyance from anyone, they'd expect consequences. Don't worry, I've dealt with this problem on my side too. He'll maybe learn his lesson, but no guarantees. Thanks for reporting this, it's always bad when a friend does poorly.
_________________
Flamm, the Big Kitty Moderator!



Posts

: 286


Join date

: 2014-01-15


Age

: 20


Location

: In ur fridge, eatin all yer cookiez .w.

RP Character Sheet
Name: Flamm
Personality Trait: Loyal
Character Description:


To be honest, some of the things he said were true, like the votes being useless, when cia said she want more "Important people" to vote, but other things I thought were just bullshit. I mean, I don't know of a time when speeder was disliked by cia, considering, as far as I know, him being one of cia's favorite players. That's all I have to say about this...



Posts

: 6


Join date

: 2014-02-11


Location

: On the planet "Earth"

RP Character Sheet
Name: ???
Personality Trait: Quiet
Character Description:


Cybershockk wrote:To be honest, some of the things he said were true, like the votes being useless, when cia said she want more "Important people" to vote, but other things I thought were just bullshit. I mean, I don't know of a time when speeder was disliked by cia, considering, as far as I know, him being one of cia's favorite players. That's all I have to say about this...
My exact words were "brave, fearless and awesome people", which totally changes the meaning -- its not that they're less important than other people (something which I never really talk about), but simply that, as I often said, they were too afraid and insecure to play the game properly.  This is still a Survival server after all, and although I throw a lot of creature comforts to make it far from difficult, it still requires that people put in some modicum of efforts to play.  Otherwise, it's far easier to get bored, and its no surprise that they often complained of being bored, and would often spend time horsing around.
Plus there is too much deal being made about this vote, but nothing is conveniently mentioned about all the idiocies they committed after KeepInventory was enabled, when it became so easy and harmless to kill or be killed (the PhoenixRealm murder incidents, for example).  That made some members of the staff and I regret the switch, and was the primary driver for us to PLAN the removal of that feature.  And I say "plan" because as Shadow pointed out, KeepInventory is still on at this time, pending technical discussions on ways to compensate for its removal (e.g., the use of DeathChests, /back and /tpa).
In addition, this can't be framed as a failure of the server to listen to player input, because we have had many instances were player input has been used to enhance the server.  Lest we forget that the Dravics map was imported, Forge Essentials was added, and variable-sized mobs were enabled BECAUSE of player suggestions -- it might never had occurred to me to do any of those things since I wouldn't have known they existed, or wouldn't have spent the time to learn them.  Lest we also forget that I gave people the opportunity to shape Little Brother as "their" server, with "their" rules, and ruled by themselves as Moderators if they so choose -- but they never took advantage of any of that because it wasn't specifically what they demanded.
If all of that is useless in their eyes, then it was only a matter of time before something in my server would get them upset enough to throw a temper tantrum and leave just because they didn't get one or two things they wanted.  I would almost call that behavior childish, but I feel that would be insulting to children.  

As for the rest of the so-called BS, I won't say that all of what Mister said was untrue -- but it was framed from a very immature point of view.  As an example, it is true that there was a time I appreciated Speeder's proactiveness, the speed in which he built his creatures, and his willingness to help other players and myself at times.  And it was because of that that I considered him a candidate for commissionership -- and in fact, the whole rank was created specifically for him since, like me, he appreciated Survival gameplay enough to NOT want full-fledged Moderatorship.
But over time, and mainly in the background through Steam and email, he began to demonstrate many notable warning signs of ungenuine intentions, such as a domineering spirit, a disturbing obsession for external validation, veiled threats, and even hints of sexism.  This eroded my trust in him over time since the behavior never stopped, until it came to the point where I had to rescind my decision to nominate him as commissioner, and bar him from any of my building projects.  And still he tried to force himself as my friend, and seeing how that failed, opted to create his own server.  In that respect I am thankful for him, since he opted to see himself out the door before he committed an indiscretion.
So in that respect your information is a little outdated, but even so it shouldn't matter.  We have to remember that this is a game, and there is no need to take things personally, or obsess over power or reputation as they have.  If they want to create their own server to run things their way and perhaps recreate the permissive spirit of Dravics, that's their choice -- as I've told Flamm, I am happy that they want to try to do something constructive about a perceived inefficiency, and I have in fact helped him acquire the version of Forge Essentials they need.
But they cannot frame the purpose of their server as a means to spite or harass my staff and I, as that would put it en par with the mentality of an extremist training camp, indoctrinating a new generation of players to the prejudices and vengeance of a few immature and insecure individuals.  
I want to thank Flamm for understanding that, and for doing his best to veer his server and its players towards a more constructive path.  I wish him well in his efforts to offer the minecraft community another option for Gulliver server gameplay.
Admin




Posts

: 3885


Join date

: 2014-01-03


Age

: 27


Location

: On the road

RP Character Sheet
Name: Ciabatta Sylvia
Personality Trait: Busy
Character Description:



---
Permissions in this forum:
You
cannot
reply to topics in this forum